1.NAME - jessie
2.AGE - 17
3.LOCATION - west virginia
4.WHAT SPICE DO YOU WANNA BE; DETAILED EXPLANATION!! - HadExtremeCrampsAndSoldUterus Spice
5.FAVORITE/LEAST FAVORITE MODSPICE (AND NO COPOUT BULLSHIT FOR THE LEAST FAVORITE..MAKE IT GOOD OR I'LL KILL YOU)Kate will always be my favorite, and lindsay is a bitch. a pretty bitch, but a bitch.
6.MUSIC YOU LIKE (KEEP IT UNDER FIVE)- neatrul milk hotel, imperial teen, michael gum, built to spill, ryan adams
7.HOBBIES YOU HAVE - I mostly just read and work at Dairy Queen
8.MOVIES YOU LIKE - You've Got Mail is my favorite movie because I love tom hanks with meg ryan. I really like the notebook. I'm not much into movies.
9.MAGAZINES YOU READ - newsweek
10.LYRIC/POEM/SOMETHING COOL THAT BEST DESCRIBES YOU (AND WHAT IT'S FROM)
god its been a lovely day! everything is going my way
i took out the trash today and i'm on fire...
- the dresden dolls
11.WHAT MAKES YOU SUBCULTURE - nothing, really.. I work at an icecream place, go to school, read everything that falls into my hands, and spend time with the most wonderful boy in the world. I smoke too much-cigarettes and mary jane, I have sex out of wedlock, and I like to listen to my music too loud and scream the words till my voice cracks.
12.IF YOU WERE IN A BAND WHAT WOULD YOU NAME IT - I had a girl band called The Clovers but we never did anything so I guess I really didn't have a band. However, I think if I tried again I'd name it something like The Dirty Girlscouts
13.ARE YOU FUNNY...PROVE IT -
I made my dog a myspace profile.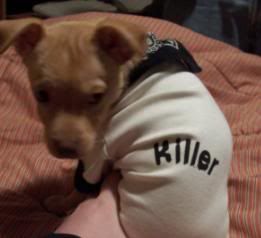 14.IF YOU COULD FUCK ANYONE WHO WOULD IT BE AND WHY - Billy Bob Thorton because I've got a thing for assholes
15.WHY ARE YOU AWESOME - Cause its 3 in the morning, I have school in the morning, and I'm still awake filling this out.